Love Comedy Manga "Uzaki-chan Wants to Hang Out!" Confirms Anime Adaptation in July 2020
Take's (丈) love comedy manga "Uzaki-chan Wants to Hang Out!" (宇崎ちゃんは遊びたい!) confirms an anime adaptation that is scheduled to air in July 2020.
The manga was launched since 2017 on Niconico as part of the Dra Dra Sharp brand (ドラドラしゃーぷ#) and has sold over 500,000 volumes (including digital version) in Japan. The fourth volume is set to launch on 7th February.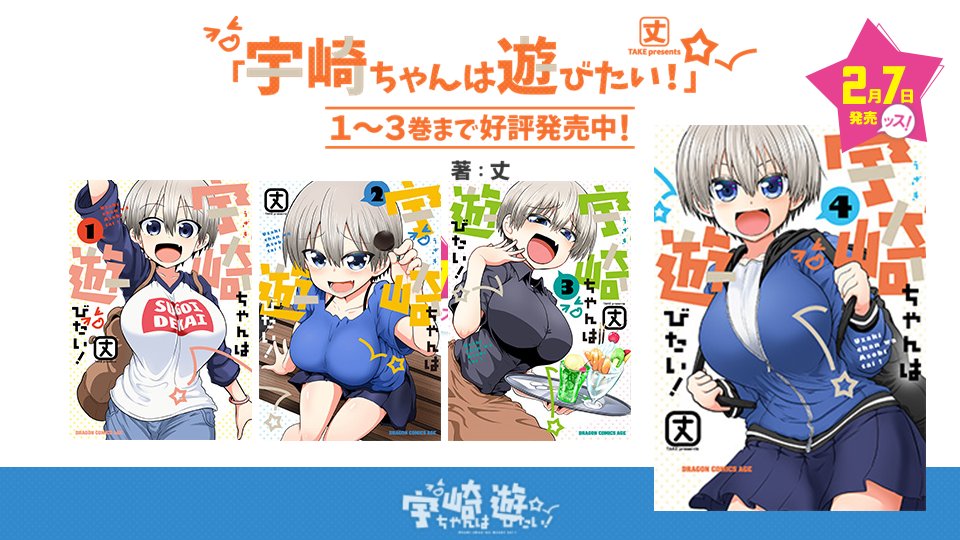 ▍Story
The story follows Shinichi Sakurai (櫻井真一), a fit and grumpy-faced 3rd year college student who just wants to spend his free time alone. However, his underclassman from his high school days, the short, energetic, and very buxom 2nd year student Hana Uzaki (宇崎花) simply will not allow that, constantly pestering him and teasing him until Shinichi is forced to hang out with her.
Slowly, but surely, he gradually starts enjoying his time with her to the point that, even with all their bickering, they're almost always seen together…
▲Special illustration by mangaka Take for the anime Adaptation
▍Cast
■ Hana Uzaki (宇崎 花) – CV: Naomi Ōzora (大空直美)
■ Shinichi Sakurai (櫻井真一) – CV: Kenji Akabane (赤羽根健治)
■ Ami Asai (亞細亞實) – CV: Ayana Taketatsu (竹達彩奈)
■ Itsuhito Sakaki (榊 逸仁) – CV: Tomoya Takagi (髙木朋弥)
▍Staff and Production
"Kemono Michi: Rise Up" director Kazuya Miura (三浦 和也) is directing the anime at ENGI. "Himouto! Umaru-chan" series composition Takashi Aoshima (あおしま たかし) is overseeing the series scripts, and "Bleach" animation director Manabu Kurihara (栗原 学) is designing the characters.