Would you mind introducing yourself to the readers of QooApp?
I used UNITY to develop R.O. App. Other than graphics and music, everything else is original. I used to work as the designer of a game company, but I later wanted to make an independent game, so I decided to learn and use UNITY.
Why did you decide to enter the world of indie gaming? And why mobile games?
Ever since I was a kid, I've liked playing games, so I really wanted to have a career in the game industry. Fortunately, I was able to enter the game industry where I learned how to make mobile games. After I joined the game industry, I want to keep independently making mobile games. Because as opposed to console games, mobile games are more suitable for independent development.
How would you describe the game? (Advantages, themes)
This game is an original 「Even a beginner can still fully enjoy the game 」concept to production. By simplifying and taking out the complicated components of the game, I'm hoping players can enjoy the game without pressure. I was afraid the game would be overly simplified and monotonous, so I added maps, new items that can be found as the story unfolds, and will also add new things on a regular basis. Other than regular tower defense players, I hope that those who have not played tower defense games will also experience my game.
What about your thoughts on the current state of gaming?
There are many possible answers. Back then, games could only be made by those with knowledge and technology companies. Individuals and small groups had pretty much no chance. But in this day and age, a lot of game developments systems, such as UNITY, are extremely easy to use. It is so easy that those who could not developgames can easily make games with the help of these systems. Most of the game is made not for profit, but to enjoy the game, allowing users to experience the fun that bigger companies cannot offer. Nowadays, the game industry releases different kinds of games everyday. Very interesting.
What does the future hold?
In my future, I intend to continue developing games. I have many game ideas that I hope can one day become games and make its way into the game market. Right now, I don't really have a goal for the future, but my current goal is to is to make 100 games.
Lastly, are there any things you want to say to the QooApp community?
I will create the perfect "casual and ready to play game". While thre may be many imperfect parts, I will continue to develop the game. If you guys are interested, feel free to take a look at the demo!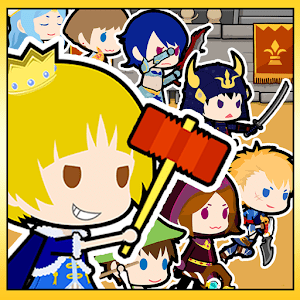 迷你角色大亂鬥! R.O.App 評分: 3.6
下載