Witnessing waves after waves of classic IP entering mobile market, finally it comes to 「Bomberman」! Lead by current franchise owner Konami, this 80s-90s collective memory icon is developed into a country-wide real-time battle mobile game. Although there are not much brand new features introduced, old fans like me is most satisfied already! (✪ω✪)
(Source: Wikipedia)
History lesson: In case you don't know 「Bomberman」 (Wait, Srsly?)
Firstly appeared on Super NES in 1993, 《Super Bomberman》has opened the gate for worldwide mania on Bomberman. Besides tons of sequels, its franchised animation has also created list of characters like White Bomber, Shaut and Gangu. With ever-changing enemies and diversified item combinations, many fans fell in love with that 11×13 squares of bomb battlefield.
Controlled by virtual gamepad, 《対戦!ボンバーマン》preserved many classic settings as the old ones. Mainly the gaming cycle is: complete story stages → gain coin rewards → pay the coins to play online battle mode.
Single or Multi?
《対戦!ボンバーマン》consists of 100 story stages, which preserve the good old settings, the numerous field settings and monsters. There are boss stages in between, which provide the chance for you to get special boss costumes, creating a strong buff on your character.
Connect external gamepad, recall the arcade
(Source: 対戦!ボンバーマン Official Webpage)
( ՞ټ՞) The official demonstrated the game in a really hilarious way, drop by if you're free.
As virtual gamepad is definitely a pain point for the old-fashioned players, official has set up Bluetooth connection for solid gamepad. If you have a pad and a projector, it is certainly a maximum enjoyment.
Being an old fans of bomberman, there are so many skills that you can use especially in online battle mode. As the followings are tricks for you to be an ever-victorious general. Enjoy!
Tactics No.1: Get it into a dead corner
When it is at the beginning of the stage, the field is full of blocks, usually enemies will enter a dead-corner unconsciously. Take some time to observe their moving patterns, drop a bomb and block its way. Done!
Tactics No.2: Chain explosion
The very first rule that new-comers should know is that the bombs can create chain explosion effect. In other words, a new bomb can be detonated when it is touched by any explosion fire. So usually you can see players placing bombs at every row of the field.At this point the chain effect can finally defeat the opponents. (At the mean time, be aware of your own boomerang~)
(Source:Video)
( ՞ټ՞) Battle became so intense while I was using this tactics. Therefore I can only capture the exact situation from videos online~
Tactics No.3: Bomb Fanatics
This practice normally appears in the climax of the battle. While both of you had consumed enough "bomb" items, then you can drop a good number of bombs at once. To finish the game in 1st place, all you can do is walk into him/her and drop as many as bombs, so that the bombs can actually stuck him/her inside. The one who first get drowned in the "bomb sea" would be the loser. This tactics really will get yourself stuck as well, so make sure you are skillful enough to handle this!
Final words: I AM A satisfying ancient fans now! 。:.゚ヽ(*´∀`)ノ゚.:。
Really interesting reborn of classic IP, having some minor improvements on interfaces and controls, making it more adoptable into mobile devices. Quite smooth connection for online battle mode, and I am certain that those opponents are real-players, which created really stimulating battles. (See photos on the right, ME SO POWERFUL!ᕦ(ò_óˇ)ᕤ) The only pity is that virtual gamepad is definitely not the best choice for controlling, really wanna try on the solid ones……。・゚・(つд`゚)・゚・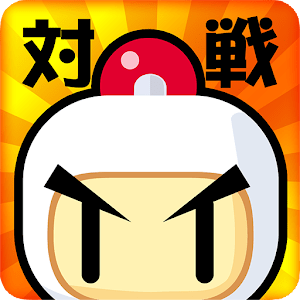 對戰!炸彈人 KONAMI 評分: 3.8
安裝