Mobile game DanMachi Cross Istoria(ダンまち -クロス・イストリア-)is now available for pre-reigtration on iOS and Android. The game is a mobile spin-off of anime series Is It Wrong to Try to Pick Up Girls in a Dungeon?(ダンジョンに出会いを求めるのは間違っているだろうか), which is also known as DanMachi. It is developed by Japanese developer Silbird.
In DanMachi Cross Istoria, players take the role of an adventurer and kill monsters whilst exploring the dungeon. Voice actors from the original anime, Yoshitsugu Matsuoka(松岡禎丞)and Inori Minase(水瀬いのり), will still voice their respective characters in the game.
The game will be released in spring.
Pre-registration Rewards
Over 10,000 Pre-reg: Crystal x100
Over 20,000 Pre-reg: Crystal x400
Over 30,000 Pre-reg: Crystal x1000
Over 40,000 Pre-reg: Crystal x1500
Over 50,000 Pre-reg: ★6 Gacha ticket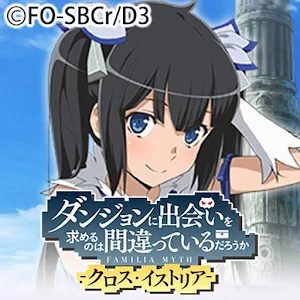 地城邂逅 交錯的伊斯托利亞 Silbird, Inc. 評分: 2.9
安裝