Netmarble's The Seven Deadly Sins: Grand Cross mobile game is confirmed to hold a collaboration with the anime series Mushoku Tensei at yesterday's live stream. The event is set to begin on April 27 on the game's Japanese server, with the global server following soon after on May 3.
As with past events, the collaboration will feature exclusive outfits, and characters from the anime, including Rudeus Greyrat, Eris Boreas Greyrat, Roxy Migurdia, and Ghislaine Dedoldia, and luxury rewards for players.
▍The Seven Deadly Sins: Grand Cross x Mushoku Tensei Collab PV
▍The Seven Deadly Sins: Grand Cross x Mushoku Tensei Collab Pickup Gacha
A collaboration pickup gacha will be available during the event period from April 27 maintenance until May 18. The gacha will feature exclusive characters for the collab.
A collaboration SSR-guaranteed gacha will also be available during the same period as the Pickup Gacha.
▍The Seven Deadly Sins: Grand Cross x Mushoku Tensei Collab Login Bonus, Special Mission & Roulette Event
Players will also receive a login bonus during the collaboration event. The login bonus event will start on April 27 and end on May 11, and players will receive rewards such as event tickets and other items by logging in every day during the event period.
Additionally, the special mission event will also run during this period and players can obtain rewards such as a ticket for the collaboration pickup gacha and SSR character coins, including the SSR collab character [Red Mad Dog] Eris Boreas Greyrat.
Players can also participate in a special roulette event Special and normal rewards are available, with SSR characters and costumes among the special rewards.
▍The Seven Deadly Sins: Grand Cross x Mushoku Tensei Collab Phantom Forest Exploration
The phantom forest exploration event will run from April 27 until May 11. Players can explore each campsite by consuming AP, and completing exploration in each area will grant rewards.
Exchangeable items are available in the coin shop, and leveling up each campsite also rewards the players.
▍The Seven Deadly Sins: Grand Cross x Mushoku Tensei Collab Death Encounter
The Death Encounter event will be held starting from April 27. Players can choose the difficulty level (Normal/Hard/Extreme) on the event page and participate up to three times daily.
The event features an exchange shop where players can trade items obtained from defeating enemies and a challenge reward system based on the number of accumulated victories. The coin shop includes items such as characters, costumes, and materials.
▍The Seven Deadly Sins: Grand Cross x Mushoku Tensei Collab Costumes
The collab features limited-time costumes that players can purchase for specific characters, with two pricing options available. Players can also get a bonus of 30 free diamonds when they purchase SET1. The purchased items will be displayed in the corresponding character's closet.
▍The Seven Deadly Sins: Grand Cross x Mushoku Tensei Collab Characters
■ Rudeus Greyrat – CV: Yumi Uchiyama / Tomokazu Sugita (Previous Life)
The eldest son of the Greyrat family and a skilled magician. His special technique is "Scheduled Future," which increases his basic stats by 10% for each human ally on the battlefield and grants him a magic ball for each ally's skill used before his own.
When he uses a single-target attack skill, all magic balls are removed, and if he has five magic balls, the critical hit rate and damage of his attack skill increase by 50% and 30%, respectively.
■ Eris Boreas Greyrat – CV: Ai Kakuma
Eris is a human noble from the Fittoa territory who has a violent and impatient personality despite her beautiful appearance. Her special skill, Hidden Potential, increases the attack-related abilities specifically in PvE, boosting their damage by 10% for each ability and 15% for each individual attack.
■ Roxy Migurdia – CV: Konomi Kohara
Roxy is a water archmage who taught magic to Rudeus. Her special skill, Special Dignity, grants a shield effect of 200% of her attack power to an unknown ally at the start of a battle, and at the beginning of the ally's turn, grants the same effect again.
Additionally, when the ally has not yet lost the Shield effect Roxy granted at the start of the turn, she grants them a 20% boost in attack-related abilities for one turn.
■ Ghislaine Dedoldia – CV: Megumi Toyoguchi
Ghislaine is a swordswoman who was part of Rudeus' parents' adventurer party and currently serves as Eris' swordsmanship instructor. Her unique combat skill is Sword King, which increases her basic stats by 7% for each unknown race ally in PvP and applies a mark on the enemy with the highest combat power at the start of the battle that only Ghislaine can attack.
When she attacks a marked enemy, her damage increases by 40%, and if the marked enemy attacks her, their attack-related abilities are reduced by 30%.
▍44th Grand Cross Information Bureau: Collaboration Live Broadcast – Hikari to Yami no Grand Cross
The Seven Deadly Sins: Grand Cross | Global Netmarble Rate: 4.5
Install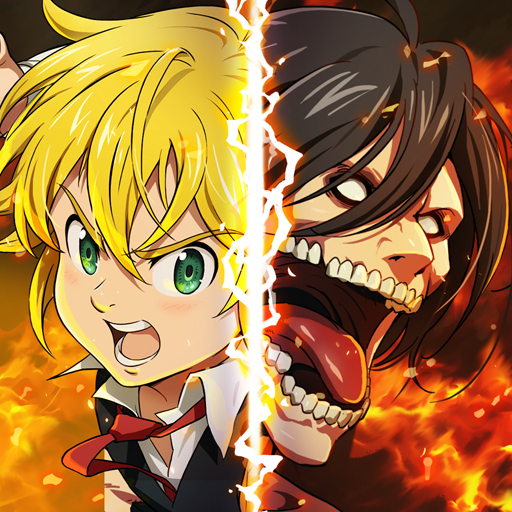 Seven Deadly Sins: Grand Cross | Japanese Netmarble Rate: 4.7
Install