It won't be long until we can see Senku in action again! The official YouTube channel of Toho Animation has published a new trailer for Dr. Stone New World, the third season of the anime adaptation of Riichiro Inagaki's adventure manga, confirming that its second part will officially air on October 12, 2023.
The trailer shows what happens to Senku and his group after finally finding the platinum ore. However, it seems that Ibara and his cronies have caught on to their plans, and decide to silence them for good. The trailer also reveals that Ryūjin Kiyoshi is performing the opening theme song "Haruka" (はるか) and Anly is performing the ending theme song "Suki ni Shinayo" (好きにしなよ).
Dr. Stone: New World aired its first part from April 6 to June 15, 2023. The season follows protagonist Senkū Ishigami and his team as they embark on a global expedition to track down the origin of the mysterious green light that turned humanity to stone. While they are securing supplies for the groundbreaking reinvention of the GPS system, a disturbing message from an unknown source motivates Senkū to intensify his exploration and scientific research in the New World.
Despite the uncertainties and potential dangers that may arise, Senkū, with his unwavering faith in science, is ready to face any challenge. The team's quest is crucial, as they need platinum to produce more revival fluid after the destruction of the miracle cave. Their quest leads them to Treasure Island, where they encounter a new population that holds the power of petrification.
▍ Dr. Stone New World Anime Staff & Production
Original Work: Dr. Stone by Riichiro Inagaki & Boichi (Serialized by Shūeisha's Weekly Shōnen Jump)
Director: Shuuhei Matsuhita
Series Composition/Screenplay: Yuichiro Kido 
Character Design: Yuko Iwasa
Design Works: Yoshio Mizumura
Main Animator: Hiroyuki Horiuchi
Art Setup: Tomoyuki Aoki
Art Director: Shunichiro Yoshihara
Color Designer: Soko Nakao
Director of Photography: Shun Kinko
Editing: Kumiko Sakamoto
Sound Director: Jin Aketagawa
Music: Tatsuya Katō, Hiroaki Tsutsumi, YUKI KANESAKA
Animation Production: TMS Entertainment
▍ Dr. Stone New World Anime Cast
■ Senku Ishigami – CV: Yūsuke Kobayashi
■ Ryuusui Nanami – CV: Ryouta Suzuki
■ Taiju Ōki – CV: Makoto Furukawa
■ Yuzuriha Ogawa – CV: Kana Ichinose
■ Kohaku – CV: Manami Numakura
■ Chrome – CV: Gen Sato
■ Kinro – CV: Tomoaki Maeno
■ Ginro – CV: Ayumu Murase
■ Ruri – CV: Reina Ueda
■ Suika – CV: Karin Takahashi
■ Gen Asagiri – CV: Kengo Kawanishi
■ Kaseki – CV: Mugihito
■ Ukyō Saionji – CV: Kensho Ono
■ Yō Uei – CV: Yoshiki Nakajima
■ Nikki Hanada – CV: Atsumi Tanezaki
■ Magma – CV: Yasuhiro Mamiya
■ Minami Hokutozai – CV: Yōko Hikasa
■ Mirai Shishio – CV: Iwami Manaka
■ François – CV: Maaya Sakamoto
■ Byakuya Ishigami – CV: Satoshi Mikami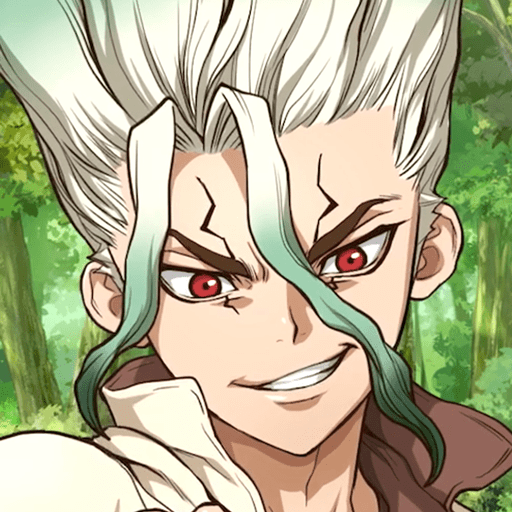 Dr.STONE Battle Craft Poppin Games Japan Co., Ltd. Rate: 4.1
Install