Aiming's battle action RPG DanMachi Battle Chronicle / Is It Wrong to Try to Pick Up Girls in a Dungeon? Familia Myth Battle Chronicle has swiftly garnered 1 million global downloads since its launch last month. To celebrate, the game is offering 10 free gacha pulls for all users. The game is also gearing up for collaborative livestreams with the popular VTubers from Hololive starting August 31, featuring seven Hololive talents on seven consecutive days.
Furthermore, a special live broadcast was streamed on Sunday featuring voice actors Haruka Chisuga and Shizuka Ishigami. The streams unveiled the latest Haruhime's Adventure event, which will come with a limited-time Haruhime Gacha Ticket Pack and Ryu and Haruhime's Rate Up Gacha events.
▍DanMachi Battle Chronicle x Hololive Live-Streams
Starting on August 31, a special collaboration with popular VTuber agency Hololive Production is set to take place. A total of seven Hololive talents, Shirogane Noel, Shirakami Fubuki & Omaru Polka, Takane Lui and Oozora Subaru from Hololive, Anya Melfissa from Hololive Indonesia, and Hakos Baelz from Hololive English will conduct a seven-day live-streaming collaboration with the game.
Various gameplay elements, including battles and Magic Stone Scramble, where up to eight players can compete simultaneously, will be showcased. Additionally, to commemorate the collaboration, all players will receive in-game rewards equivalent to 10 Gacha pulls
Live-Streaming Schedule [JST]:
▍DanMachi Battle Chronicle "Haruhime's Adventure" Event
The event "Haruhime's Adventure" is now live in the game, running from August 27 and running until September 12. This event invites players to engage with a Limited Story that centers on Haruhime as she sets off to level up and accumulate experience to assist her Familia. By completing quests and missions, players can earn a variety of rewards such as Selas, Upgrade Materials, and Event Medals, which can be redeemed for special Scene Cards and Battle Items.
The exchange period for these items will run until September 13. Among the rewards are UR Scene Cards "Perfect Spring Day for Adventure," available at 500 Event Medals for one card and 1500 Event Medals for four cards, and "Haruhime's Handmade Lunch," obtainable for 50 and 100 Event Medals.
Additionally, there are plans to introduce EX Quests and ranking events at a later date. By using new Scene Cards "The Brilliance of Ranking Up," "Set Free from Fate," and "Spring in Bloom for an Adventure," players can also increase the number of Event Medals received.
▍DanMachi Battle Chronicle "Haruhime's Adventure" Login Bonus
The game is also rolling out a special login bonus to mark the event. The bonus is set to run from August 27 to September 12. Players who log in each day during the 7-day period will receive rewards such as Selas and Potato Poppers (S), among other rewards.
▍DanMachi Battle Chronicle Fox Spirit: Haruhime Rate Up Gacha
A new rate-up gacha is now live in the game, running from August 27 to September 12. The spotlight is on Fox Spirit: Sanjouno Haruhime, who comes with an increased rate during the gacha period.
Haruhime is a Support type Adventurer, designed to amplify inflicted damage and reduce damage received for both herself and allies within her range through her Special Move.
Two new Scene Cards will also be available, of which UR The Brilliance of Ranking Up has an increased appearance rate in this Gacha. For each Gacha pull, players will receive one Medal (Peach), which can be exchanged for items including "Fox Spirit: Sanjouno Haruhime" for 200 Medals and "The Brilliance of Ranking Up" for 150 Medals.
▍DanMachi Battle Chronicle Gale: Ryu Lion Rate Up Gacha
The game has also rolled out a new Rate Up Gacha, featuring Gale: Ryu Lion with an increased rate. The event is scheduled to run from August 27 to September 5.
Ryu Lion is an Adventurer characterized by a unique technique that boosts movement speed and a Special Move designed to deal lots of damage. For each spin on this Gacha, players will be awarded one Medal (Purple). These can be redeemed at the Exchange on the Gacha screen for Gale: Ryu Lion, which requires 200 Purple Medals for exchange.
▍DanMachi Battle Chronicle Gacha Ticket Pack
The game is offering a special Fox Spirit: Haruhime Gacha Ticket Pack for a limited time. Available for purchase from August 27 until September 12, this pack allows players to draw 10 consecutive Gachas at a discounted rate of 300 Selas.
▍DanMachi Battle Chronicle Team Caravan Linked Campaign
A collaborative campaign between games managed by Team CARAVAN is officially underway. Starting on August 28, the campaign brings rewards for: "Is It Wrong to Try to Pick Up Girls in a Dungeon? Battle Chronicle", "The Eminence in Shadow: Master of Garden" (Shadow Garden), and "Caravan Stories." The campaign is slated to last until October 11.
To participate, players must clear specific conditions within each game. For instance, in DanChro, you'll need to play until you draw the tutorial Gacha. In Shadow Garden, players should complete the Seven Shadows Chronicle 1-1, while in Caravan Stories, setting up the Fortune Box in your caravan is required.
Upon completion, players can earn up to 10 Gacha Tickets for each game involved. Completing conditions in both DanChro and Shadow Garden will yield 5 Gacha Tickets for each game. Fulfilling conditions in all three games, however, grants players 10 Gacha Tickets per game. The distribution date for DanChro's rewards is set for October 17.
To claim the rewards, participants need to submit their account details through a Google Form provided. The form can be accessed at this link.
▍DanMachi Battle Chronicle News #3 – Live Broadcast to Commemorate Release Archive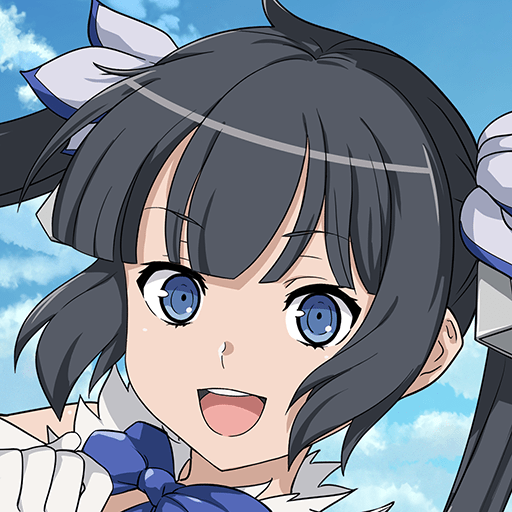 DanMachi Battle Chronicle | Global Aiming Inc. Rate: 3.6
Install