On February 9th, Nemoto Ruka, Chikuta Ikuko, and Tamura Kyoka, the Emperor Penguin, Humboldt Penguin, and Gentoo Penguin in Kemono Friend's PPP appeared at C3AFA HK 2018!
During their stage event at C3, Asides from performing songs from the Kemono Friends series, the trio also answered questions and played games on stage, as well as a backstage interview with the media.
Challenging their artistic skills, they each took turns to pair up with another to draw different characters for the other to guess.
The first round of the game started off quite well, but as the game continued it seems the answers were becoming harder and harder to guess…
Until finally…
Can you guess what the answer is?
The answer to the finaly drawing is Bruce Lee. If you didn't get it right, don't worry, Nemoto only guessed correctly from the gestures given by Tamura. The drawing had no contribution to the correct guess.
Backstage Interview with Media
▍Q1: Which Kemono Friends Animal Most Represents HK?
Tamura: Dog, Because from our short experience here in HK, there are a lot of dogs in HK.
▍Q2: What are your feelings after the stage event just now?
Chikuta: The people of Hong Kong are really passionate and very responsive to Kemono Friends which makes me really glad.
Nemoto: A little worried about whether or not people know about Kemono Friends in HK, but was really glad that there are a lot of fans here.
Tamura: First time in HK, really thinks it is a wonderful place. Hopes that next time all eight members of PPP will be able to come and perform here.
▍Q3: What do you like best about your Character in Kemono Friends?
Chikuta: I like how Hululu (Humboldt Penguin) doesn't really know what she wants to do or say. She thinks it's really cute, but she doesn't like how she eats everything…
Nemoto: Emperor Penguin is the leader and works hard so that other people would like her. She is really kind and gentle to those around her. That is the part of her I like best. If there was one thing I could change about her, it would be that when her character gets nervous she rolls backs her eyes. She is also quite a laid-back character and I hope that she would try harder.
Tamura: Gentoo Penguin tries her best at everything which is very respectable, but at the final moment just before performing becomes really nervous, I hope that would change.
▍Q4: Out of all the members of PPP which penguin would you like to befriend the most?
Chikuta: Emperor Penguin, because she is like a reliable Oneesan.
Nemoto: Gentoo Penguin because is a more quiet and composed character which balances out my more wild personality.
Tamura: Rockhopper Penguin because she has a very passionate personality and I feel that spending time with her would be very fun.
That was it for Kemono Friends at C3AFA HK 2018. Stay tuned to QooApp for more backstage interview and stage events from C3!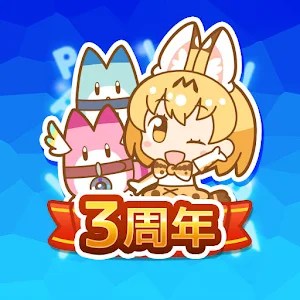 Kemono Friends: Pavilion Kemono Friends: Pavilion 株式会社ブシロード

: