Set to premiere in Japan on 21st February, anime movie "Digimon Adventure: Last Evolution Kizuna" (デジモンアドベンチャー LAST EVOLUTION 絆) today (11nd February) streams the last PV featuring the classic soundtrack of the franchise, "Bolero".
▍Last PV (Eng. Sub.)
DIGIMON ADVENTURE: LAST EVOLUTION KIZUNA – 2nd Trailer [English Sub]
▍Story
The movie is a sequel to the previous Digimon Adventure tri. series and set in 2010. Taichi Kamiya (八神太一) is now a college student, and the others who are DigiDestined also have their own paths.
Meanwhile, certain incidents occur in the digital world caused by a Digimon called Eosmon (エオスモン). Taichi and the DigiDestined come together once again to battle. However, they find something goes wrong with their Digimons' evolutions, and get to know the shocking truth that their partner Digimon will cease to exist when they become adults……
▍Staff and Production
Tomohisa Taguchi (田口智久) is directing the film, and Akatsuki Yamatoya (大和屋暁) is handling the scripts. The animation is produced by Yumeta Company (ゆめ太カンパニー), while Toei distributes the film.
The movie theme song will be "Butter-Fly" by Koji Wada (和田光司). Other classic tracks from the anime series such as "Brave Heart" by Ayumi Miyazaki (宮崎歩) and "I wish" by AiM will be the insert song and ending theme song respectively.
▍DIGIMON ADVENTURE 20th memorial story "To Sora"
DIGIMON ADVENTURE 20th memorial story "To Sora" [English Sub]
▍Official Trailer
DIGIMON ADVENTURE: LAST EVOLUTION KIZUNA – Trailer [English Sub]
Digimon Survive Bandai Namco Entertainment

:
Digimon ReArise | Japanese BANDAI NAMCO Entertainment Inc.

: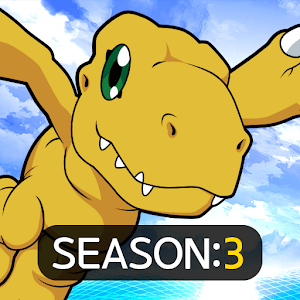 Digimon Soul Chaser Season2 Cayenne's Ark Rate: 3.2
Download
Digimon ReArise | Global (English,Chinese,Korean) BANDAI NAMCO Entertainment Inc.

: