Rooster Teeth and SHAFT released a new PV for its original anime project, RWBY: Ice Queendom. The PV previews the anime's new original story, with the girls having to travel into Weiss' nightmare to rescue her, lest she never wakes up, a look at Weiss' new design in the nightmare, and the world her mind conjures up!
The team also released the end card illustration by Hiroyuki Asada, featuring the new character Shion, the mysterious Nightmare huntsman who will help bring the girls into Weiss' nightmare.
Chapter 4 of RWBY Ice Queendom will debut on July 24.
▍RWBY Ice Queendom PV3
▍Chapter 3 End card Illustration
The team also released the illustration featured at the end of Chapter 3, created by Hiroyuki Asada. With the illustration, they commented: "I drew the new original character Shion, a mysterious Nightmare huntsman because I somehow felt this character is close to my usual style when drawing. I look forward to enjoying the new character and brand-new story & settings of "RWBY: Ice Queendom" with you all!"
▍RWBY Ice Queendom Story
RWBY Ice Queendom is an original anime series based on Rooster Teeth and the late Monty Oum's series RWBY. The series covers an original story featuring the Nightmare, creatures made of thorns that possess humans and drain their energy by feeding on their dreams and are the catalyst for the events of this new story.
Weiss, a member of team RWBY is snared by a Nightmare, stuck in a never-ending dream where she seeks to protect the one most precious to her. In order to save their friend, the RWBY team ventures into Weiss' mind, ready to face whatever threats her mind can conjure up.
▍RWBY Ice Queendom Anime Staff and Production
Original Story: Rooster Teeth Productions' "RWBY" by Monty Oum
Director : Toshimasa Suzuki
Animation Concept: Gen Urobuchi (NITRO PLUS)
Story Editor, Scriptwriter: Tow Ubukata
Animation Character Original Concept: huke
Character Design, Chief Animation Supervisor: Nobuhiro Sugiyama
Visual Director: Nobuyuki Takeuchi
Chief Director: Kenjiro Okada
Chief Animation Supervisor: Yoshiaki Ito, Hiroki Yamamura, Rina Iwamoto
Main Animator: Hiroto Nagata, Kazuki Kawata
Alternate World Image Concept: Rui Tomono
Art Boards: Hisaharu Iijima
Art Director: Takeshi Naito
Color Design: Hitoshi Hibino
Director of Photography: Takayuki Aizu
Editor: Rie Matsubara
Music Composer: Nobuko Toda x Kazuma Jinnouchi
Sound Director: Jin Aketagawa
Animation Production: SHAFT
Produced by: Team RWBY Project
▍RWBY Ice Queendom Anime Cast
■ Ruby Rose: Saori Hayami
■ Weiss Schnee: Yoko Hikasa
■ Blake Belladonna: Yu Shimamura
■ Yang Xiao Long: Ami Koshimizu
■ Jaune Arc: Hiro Shimono
■ Nora Valkyrie: Aya Suzaki
■ Pyrrha Nikos: Megumi Toyoguchi
■ Lie Ren: Soma Saito
■ Ozpin: Kazuhiko Inoue/Shion Zaiden/Hiroki Nanami
Follow QooApp official Facebook / Twitter / Google News to get the latest ACG information!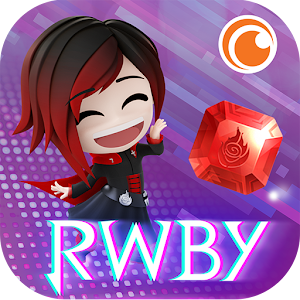 RWBY: Crystal Match Crunchyroll Games Rate: 4.1
Install