Kakao Games and Nine Ark have opened the global pre-registration of Eversoul, a spirits collectible RPG that is set to release for mobile in early 2023. Players can now pre-register for the game via the official site and obtain gorgeous rewards upon launch.
The cumulative count of global pre-registration will determine the rewards gifted to those who sign-up for the pre-registration. Details are as follows:
100,000 reached: Gold x100,000, Mana Dust x100,000
300,000 reached: Everstone x1,000
500,000 reached: Exclusive Mica & Seeha Illustration
700,000 reached: Epic Soul Mica
1,000,000 reached: Exclusive Mica's Costume and Seeha's Costume
As an idle RPG with fascinating lore and story, Eversoul provides an immersive experience interlaced with collectible features. Players can gather beautiful playable characters called Souls spanning Humanlikes, Undeads, Beasts, Fairies, Angels, and Demons, each possessing unique skill sets, features, and exclusive spirit-imbued artifacts.
Eversoul is slated for launch in January in multiple regions including North America, Latin America, Oceania, South Korea, and Southeast Asian countries.
▍Eversouol G-Star 2022 Trailer (EN Ver.)
▍Eversoul Gameplay
Based on the world view of post-Apocalypse and medieval fantasy, Eversoul is a collectible card mobile game for players to collect spirits created with animated 3D graphics, nurture and communicate with them. It is embodied with a romantic storytelling system borrowed from dating simulation games, and a charming and beautiful territory management system utilizing SD characters to create a deeper affection between players and characters
From humanlike and undead, to beasts, fairies, angels, and demons, each comes equipped with unique skills and storylines. As Eversoul's dramatic story unfolds, you will form bonds with these collectible characters, and deepen your relationships with them.
Offering an immersive mix of tactical, squad-based combat and stunning anime-inspired visuals, Eversoul pushes the boundaries of what fans have come to expect from the genre, in both gameplay and graphics. Players can customize their own elite fighting force, braving maze-like dungeons or PvP while also building their own town and experiencing Eversoul's idle gameplay elements.
Follow QooApp official Facebook / Twitter / Google News / Reddit to get the latest ACG information!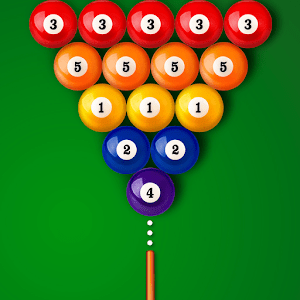 Pool Trickshots Billiard Pool Trickshots Billiard Ilyon Rate: 2.5
Download