MIXI, the maker of Monster Strike, has hosted a major update on its Monster Strike Ghost Scramble mobile game, which initially launched in Japan in July 2022.
This update completely revamps the core gameplay and adds a lot of quality-of-life improvements to this multiplayer action game. Originally playable only on portrait, the game now supports landscape mode, allowing players to get a better view of exterminating the ghosts.
Read More: Monster Strike: Ghost Scramble – Tier List and Beginner's Guide
▍Monster Strike: Ghost Scramble Major Update PV
▍Monster Strike: Ghost Scramble Major Update
■ Orientation Changed from Portrait to Landscape!
With this renewal, the game concept, which emphasized cooperative play between the buster and the drone, has been revamped to an action game in which you and your friends exorcise a boss monster of a different magnitude. As such, the orientation has been changed from portrait to landscape mode.
■ New You-Tai Function
In addition, the "drone play" function, which used to be reserved for the player who supervises and supports friends by guiding and dropping items, has been replaced by the "you-tai" function, which allows players to drop bombs by operating it from above.
■ New Possession Skills!
Possession Skills will be added to enhance the abilities of Mon-Q and Buster by possessing other Mon-Qs in specific Mon-Qs. Up to three Mon-Qs can be possessed by one base Mon-Q, and each possessed Mon-Q will exhibit various skills.
■ Super Class Quests have been added!
Super Class Quests, which are more difficult than the previous quests, will be newly introduced. In addition to these "Super Class Quests," the contents and difficulty levels of each stage of all previously introduced quests have been adjusted to match the changes in the battle system. In addition, the training materials to be acquired in the training quests will be easier to obtain, making it easier to train Mon-Q than before.
▍ Renewal Campaign Gacha & Login Bonus
To celebrate the renewal of the game, a special gacha where you can pull once a day for free during the period will be available. This gacha can be pulled up to 13 times if you pull it every day.
In addition, a special login bonus where you can receive enough Orbs for a tenfold pull on the gacha, as well as the materials necessary for awakening your Mon-Q!
▍ Start Dash Mon-Q Gacha
Starting from the renewal, you can get a Start Dash ★2 Guaranteed Gacha Ball will be given as a start dash log-in bonus for logging in. You can also get another Guaranteed Gacha Ball by clearing certain missions. These can be used on the Star Dash gacha, which guarantee you ★2 copy of Himiko, Robin Hood, Noah, or Lucifer!
▍ Possessed Mon-Q Gacha
The Possessed Mon-Q Gacha (Scramble 1) will be newly released from January 18. In this gacha, Yukimura, Hera, and Vodka, well-known Monsters, will newly appear in the gacha as Mon-Q!
▍ Get Kamui by defeating the Boss!
The "Event Quest" has been renamed as "Boss Defeat" in accordance with the renewal. The "Boss Defeat" quests will feature the first appearance of the Large-Tailed Kamui and"Flying-Winged Queen Butterfly. The characters that appear as bosses in the Boss Defeat will be available as Mon-Q.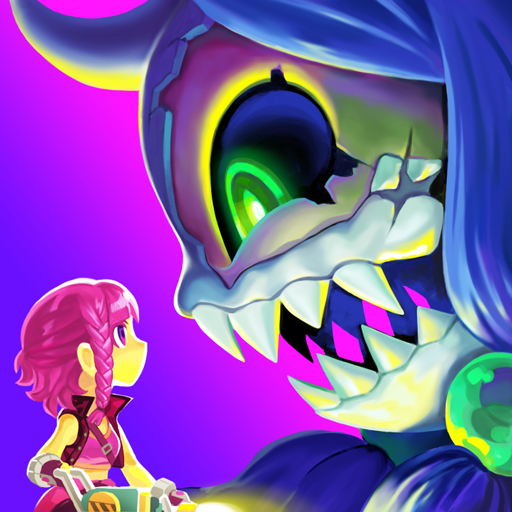 Monster Strike Ghost Scramble XFLAG, Inc. Rate: 3.7
Install