The English version of Bushiroad's DJ-themed rhythm game "D4DJ Groovy Mix" officially launches today on May 27! If you have problems transfer the data from the Japanese server, check the simple steps below!
Bushiroad previously announced that the English version was a feature to switch to English text in the same app released in Japan. But it was later confirmed to be a separate application due to licensing issues pertaining to music and collaborative events in the game. The official announcement can be found HERE.
▍How to transfer your Account?
Accounts can be transferred from May 27, 2021, to June 27, 2021 at 12:00 AM (PDT) and once your account has been migrated to the English version, it cannot be migrated back to the Japanese version. Also, Paid Diamonds and uncollected items in your Present Box will not be carried over between versions.
You should also note that any cards you own that were added to the Japanese version after May 27 will not be immediately transferred to your English version account. You will receive them at a later date, on July 1, 2021.
■ Steps to transfer your account
1. On your Japanese version account, tap the top right 'Menu' button on the Main Menu screen.
2. Tap on the 「英語版へのデータ引継ぎ」 button.
3. Issue a data transfer code and password.
4. Go to your English version account, tap the bottom right 'Menu' button on the Title screen (the screen with "TAP TO START" when you open the app).
5. Tap on the 'Transfer Data From Japanese Version' button.
6. Read the terms and conditions regarding transferring your data on the website. Tick the checkbox if you have understood the transfer conditions.
7. Tap on 'Confirm'.
8. Enter your transfer code and password from Step 3.
■ Compensation
Compensation will be offered to Members that are non-transferable, which includes 1 ★4 Member Exchange Ticket per ★4 Collaboration Member + Level Up Materials for that Member and 1000 Diamonds per ★3 Collaboration Member + Level Up Materials for that Member.
Additionally, all accounts that choose to migrate from the Japanese version of the game to the English version of the game will receive 3000 Free Diamonds as compensation for certain non-transferable items (e.g. Club Items, Disc Skins).
▍PV
▍Overview
"D4DJ Groovy Mix" is developed by Donuts, with Bushiroad's founder and president Takaaki Kidani serving as the executive producer and "BanG Dream!" scenario writer Ko Nakamura wrote the story.
It is a free-to-play DJ-themed rhythm adventure game set in a world of DJs and heart-thumping nightclubs! Players will engage in a variety of activities, including fully customizable Solo or Multiplayer rhythm gameplay, collecting members for their DJ units, and a deep, immersive storyline!
▍Gameplay
Follow the daily lives of the six in-game DJ units — Happy Around!, Peaky P-key, Photon Maiden, Merm4id, RONDO, and Lyrical Lily. Learn about the background of each unit and immerse yourself in their stories with full voice acting and Live2D animations! The plot ramps up in intensity as the units prepare themselves to challenge the biggest DJ Event, D4 FES!
Play more than a hundred original songs and covers of anime and J-pop smash hits in either Solo or Multiplayer lobbies! With D4DJ's extensive customization system, players will be able to adjust the rhythm game's UI, speed, and buttons to their liking: take complete control of sliders and scratches in Manual mode, or go hands-free with Audience mode.
Collect members from various DJ units and use materials earned from Live Shows to unlock their true potential with training! LIMIT BREAK members to increase their stats, and reveal gorgeous animated art for rare members!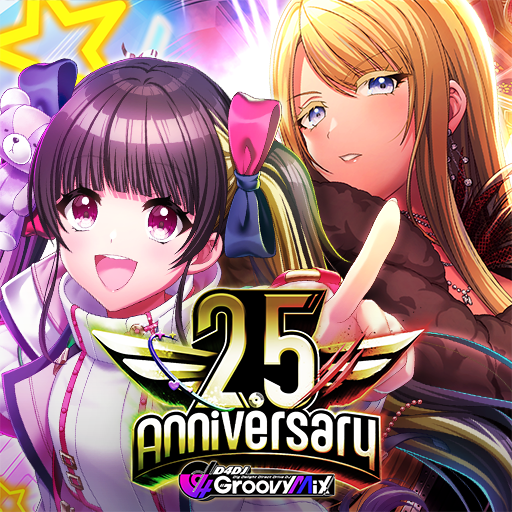 D4DJ Groovy Mix | English Bushiroad International Pte Ltd_ Rate: 4.6
Install