Warner Bros. Japan unveiled a new teaser trailer for Mob Psycho 100 season 3 under the title "Mob Psycho 100 III". The video not only previews new scenes from the third season but also announces the October premiere date.
The anime's season 3 will feature a returning cast and staff, including the previously announced Setsuo Itō as Shigeo Kageyama, Takahiro Sakurai as Arataka Reigen, and Akio Ōtsuka as Dimple. Other returning cast includes Takanori Hoshino as Serizawa, Atsumi Tanezaki as Tome Kurata, Uki Satake as Tsubomi, Ayumi Fujimura as Ichi Mezato, Toshihiko Seki as Musashi Goda, and Yoshimasa Hosoya as Tenga Onigawara.
The anime's previous director Yuzuru Tachikawa is now credited as executive director, with Takahiro Hasui as the new director. Hiroshi Seko returns from the previous seasons for series composition.
Mob Psycho follows a young boy named Mob who has incredible psychic abilities and a very kind heart. Throughout the series Mob faces off against a variety of enemies and often needs empathy to stop them just as much as he needs his kick-ass powers.
The first season of the anime premiered in Japan in July 2016, and the second season premiered in January 2019. The original manga includes 16 total volumes, with the past two anime covering roughly six volumes of the manga each. It leaves just four left for the final season to bring Mob's storyline to a close.
▍Mob Psycho 100 Season 3 Staff & Production
Original Work: ONE [Shogakukan's Manga One]
Executive Director: Yuzuru Tachikawa
Director: Takahiro Hasui
Series Composition: Hiroshi Seko
Character Design: Yoshimichi Kameda
Art Director: Ryō Kōno
Color Design: Shihoko Nakayama
Director of Photography: Mayuku Furumoto
Editor: Kiyoshi Hirose
Sound Director: Kazuhiro Wakabayashi
Music: Kenji Kawai
Animation: BONES
▍Mob Psycho 100 Season 3 Cast
■ Shigeo Kageyama – CV: Setsuo Itō
■ Arataka Reigen – CV: Takahiro Sakurai
■ Dimple – CV: Akio Ōtsuka
■ Ritsu Kageyama – CV: Miyu Irino
■ Teruki Hanazawa – CV: Yoshitsugu Matsuoka
■ Serizawa – CV: Takanori Hoshino
■ Tome Kurata- CV: Atsumi Tanezaki
■ Tsubomi – CV: Uki Satake
■ Ichi Mezato – CV: Ayumi Fujimura
■ Musashi Goda – CV: Toshihiko Seki
■ Tenga Onigawara – CV: Yoshimasa Hosoya
Follow QooApp official Facebook / Twitter / Google News to get the latest ACG information!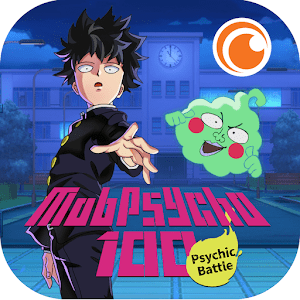 Mob Psycho 100: Psychic Battle | English Crunchyroll Games

: