The official Twitter of The Idolmaster: Million Live! announced that the smartphone game's television anime adaptation will debut in October 2023. The adaptation is part of the 10th anniversary of The Idolmaster's sub-franchise.
Advanced screenings of all episodes will also be held at movie theaters nationwide in Japan from August 18, 2023, prior to the TV broadcast. Visuals and scene cuts of the theatrical version and a teaser video have also been unveiled.
The advance screening at theaters will be held for three nights, and special events such as admission gifts and support screenings are also being planned. More details will be announced at a later date.
▍The Idolmaster Million Live! 10th Anniversary PV
▍The Idolmaster Million Live! Advance Screening
All episodes will be screened in advance at theaters nationwide in Japan. Orders for movie tickets have started at Asobi Store, and "765 sets" with original design neck straps and card cases for the 3 types of movie tickets, and producer sets with concert lights and acrylic stands are available.
Screening Schedule:
■ Act 1: August 18 – September 7
■ Act 2: September 8 – September 28
■ Act 3: September 29 – October 19
▍The Idolmaster Million Live! Anime Story
The Idolmaster Million Live! follows Mirai Kasuga, who wishes to capture a dream she hasn't seen yet, Shizuka Mogami, who aspires to be an idol and is shaken by her dream, and Tsubasa Ibuki, who doesn't know what she can really do.
What awaits these three, guided by the brilliance of idols, are new friends. When the 39 idols newly gathered at 765 Productions reach for their dreams together, a million sparkles will be born in the live theater!
▍The Idolmaster Million Live! Anime Staff & Production
Planning/Production/Original: Bandai Namco Entertainment
Director: Shinya Watada
CG Director: Daisuke Shiotani
Series Composition/Screenplay: Yoichi Kato
Animation character design: Tetsuya Ishii / Kaori Tsuta
Concept Art: Masato Shirata/Nami Ogata/Ryuji Hida
Art/setting: Natsumi Sakamoto
Art Board: Big Studio
Color design: Hikaru Takigawa/Miyuki Sato
Director of Photography: Kentaro Oda
Editing: Akari Saito
Sound Director: Hiromi Kikuta
Music: Lantis
Cooperation: BANDAI NAMCO Studios
Animation Production: Shirogumi
Distribution: Shochiku ODS Office
▍The Idolmaster Million Live! Anime Cast
■ Mirai Kasuga – CV: Haruka Yamazaki
■ Shizuka Mogami – CV: Azusa Tadokoro
■ Tsubasa Ibuki – CV: Machico
■ Emily Stewart – CV: Yuu Kahara
■ Tamaki Ogami – CV: Eri Inagawa
■ Reika Kitakami – CV: Emi Hirayama
■ Shiho Kitazawa – CV: Sora Amamiya
■ Hinata Kinoshita – CV: Nao Tamura
■ Umi Kousaka – CV: Reina Ueda
■ Kaori Sakuramori – CV: Arisa Kouri
■ Minako Satake – CV: Eri Oozeki
■ Karen Shinomiya – CV: Yui Kondou
■ Elena Shimabara – CV: Asuka Kakumoto
■ Julia – CV: Aimi Terakawa
■ Tsumugi Shiraishi – CV: Saki Minami
■ Momoko Suou – CV: Keiko Watanabe
■ Sayoko Takayama – CV: Yuri Komagata
■ Kotoha Tanaka – CV: Risa Taneda
■ Tomoka Tenkubashi – CV: Kotori Koiwai
■ Serika Hakozaki – CV: Momo Asakura
■ Matsuri Tokugawa – CV: Ayaka Suwa
■ Megumi Tokoro – CV: Yukiyo Fujii
■ Fuka Toyokawa – CV: Rie Suegara
■ Iku Nakatani – CV: Akari Harashima
■ Subaru Nagayoshi – CV: Saitou Yuka
■ Yuriko Nanao – CV: Miku Itou
■ Chizuru Nikaido – CV: Kanako Nomura
■ Akane Nonohara – CV: Saki Ogasawara
■ Konomi Baba – CV: Minami Takahashi
■ Noriko Fukuda – CV: Nana Hamasaki
■ Ayumu Maihama – CV: Megumi Toda
■ Mizuki Makabe – CV: Rika Abe
■ Arisa Matsuda – CV: Rie Murakawa
■ Miya Miyao – CV: Choucho Kiritani
■ Anna Mochizuki – CV: Shiina Natsukawa
■ Rio Momose – CV: Rikako Yamaguchi
■ Kana Yabuki – CV: Ibuki Kido
■ Nao Yokoyama – CV: Yui Watanabe
■ Roco Handa – CV: Atsuki Nakamura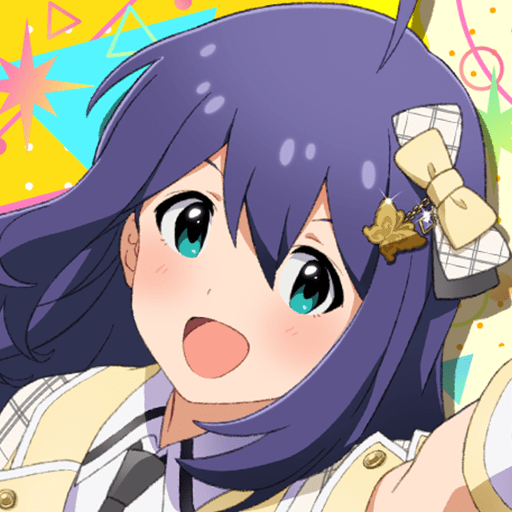 THE iDOLM@STER Million Live!: Theater Days | Japanese BANDAI NAMCO Entertainment Inc. Rate: 4.7
Install