Kadokawa released a new trailer for Bungo Stray Dogs, while also announcing that the fifth season of the anime isn't that far away, as it'll be premiering on July 12.
The show's opening theme song is "Kurogane no Ori" by GRANRODEO, and the Luck Life will be performing the show's ending theme song "Kiseki". The fifth season directly follows the event of season 4, and this time is centered around the Decay of the Angel terrorist group, which has successfully planted a bomb in Sky Casino, triggering events that will shape the world. Can the Armed Detective Agency survive Kamui's pursuit?
▍About Bungo Stray Dogs Season 5 PV2
▍Bungo Stray Dogs Season 5 Synopsis
A coin-shaped bomb was found in a Sky casino. One of these coin-shaped bombs exploded in the city, and the apocalypse began amidst the chaos. The name of the vile criminals is Armed Detective Agency.
Atsushi Nakajima and his friends fall into the hideous trap laid by the Decay of the Angel. Through the power of "pages" to alter reality.
The Armed Detective Agency had turned into a terrorist group that received criticism from all over the world.
The Hunting Dogs, the most powerful special unit of the military police, pursue their prey with conviction, and at the cost of devoting themselves to society, they devour the prey in a thousand pieces.
And their captain, Ōchi Fukuchi, has been working to combat terrorism in the new era. He urges the uprising of a supranational armed security force, the "Mankind Army," to combat the new age of terrorism. Atsushi runs straight ahead, feeling uneasy about not being with his comrades. The seeds of hope are sown on the road that the poor stray dog runs on.
Yukichi Fukuzawa and Ranpo Edogawa, the founders of the detective agency itself against Fyodor, the Fiend, to find out what he is up to. Dazai Osamu, imprisoned also seeks an opportunity to strike back. There are only six days left until the plan to annihilate the nation. Before then, he must take the "page" in his hands, Will you be able to defeat the unseen leader, Kamui? Is this your path to life? …The identity of the mastermind is finally revealed.
Friends and allies, past and present. All for the sake of the future.
▍Bungo Stray Dogs Season 5 Anime Staff
Original Story: Kafka Asagiri
Manga: Harukawa35 (serialized in "Young Ace")
Director: Takuya Igarashi
Series Composition/Screenplay : Yoji Enokido
Character Design / Chief Animation Director: Nobuhiro Arai 
Prop Design: Fumihiro Katagai
Art Director: Yumiko Kondo  
Color Designer: Yukari Goto
Director of Photography: Tsuyoshi Kambayashi
3DCG Director: Yota Ando, Hiroki Oguri
Editing: Shigeru Nishiyama
Music: Taku Iwasaki
Music Production: Lantis 
Sound Director: Kazuhiro Wakabayashi 
Sound Effects: Shizuo Kurahashi (Sound Box), Sachiko Nishi (Sound Box)
Sound Production: Glovision
Animation Production: BONES 
Production: Bungo Stray Dogs Production Committee
▍Bungo Stray Dogs Season 5 Cast
■ Atsushi Nakajima – CV: Yuto Uemura
■ Osamu Dazai: Mamoru Miyano
■ Doppo Kunikida – CV: Yoshimasa Hosoya
■ Ranpo Edogawa – CV: Hiroshi Kamiya
■ Junichiro Tanizaki – CV: Toyonaga Toshiyuki
■ Kenji Miyazawa – CV: Hiroyuki Kagura
■ Akiko Yosano – CV: Yū Shimamura
■ Izumi Kyoka: Sumire Morohoshi
■ Yukichi Fukuzawa – CV: Rikiya Koyama
■ Nikolai Gogol – CV: Takehito Koyasu
■ Sigma – CV: Shoya Chiba
■ Mushitarō Oguri – CV: Takeshi Kusao
■ Tetchō Suehiro – CV: Yohei Azakami
■ Akutagawa Ryunosuke: Kensho Ono
■ Chuya Nakahara: Kisho Taniyama
■ Fyodor D – CV: Akira Ishida
■ Teruko Ōkura – CV: Makoto Koichi
■ Ōchi Fukuchi – CV: Akio Otsuka
■ Michizō Tachihara – CV: Yū Hayashi
Bungo Stray Dogs: Tales of the Lost | Japanese Ambition co.,ltd. Rate: 4.8
Install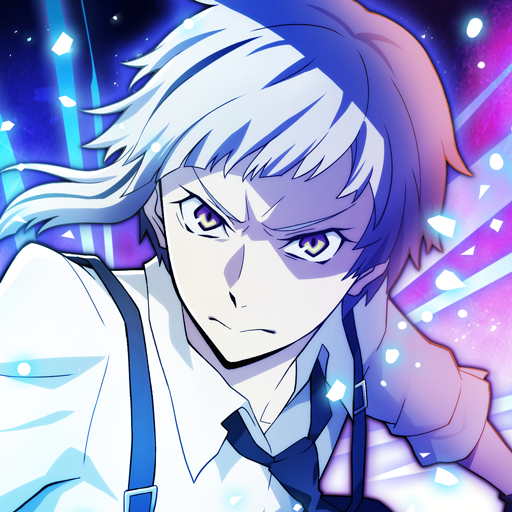 Bungo Stray Dogs: Tales of the Lost | English Crunchyroll Games Rate: 4.7
Install
Bungo Stray Dogs: Tales of the Lost | QooApp version QooApp Limited Rate: 4.6
Install
Bungo Stray Dogs: Tales of the Lost | Simplified Chinese Boltrend Rate: 4.8
Install