With the JoJo series reaching the 30th anniversary, Bandai Namco revealed more content for their previously announced JoJo mobile game, JoJo's Bizarre Adventure Pitter-Patter Pop.
The previously revealed preview version is a camera app which allows users to take photographs with special JoJo manga effects. At Tokyo Game Show 2018, Bandai Namco revealed a new playable demo for the game introducing a puzzle block remover element to the game.
Like most block remover puzzle games, JoJo's Bizarre Adventure Pitter-Patter Pop has a simple gameplay system where players have to match different character tiles together to remove them and deal damage to your opponents. Majority of the game is similar to most puzzle block removers, however, the game does recall back to the series' iconic Stands with a Fever mode where players have to group the same character tiles together in 2×2 (+) squares to unleash their character's Stand.
The game is officially announced for Fall 2018, meaning that game will soon be available for jojo fans to play. Fans will also be able to download a preview version of the app which is a JoJo camera app that allows users to take pictures with special Chibi character animated frames.
In the gameplay demo Bandai Namco presented at Tokyo Game Show 2018, the game is scheduled for a release in Fall 2018! Hopefully an actual release date will be released soon!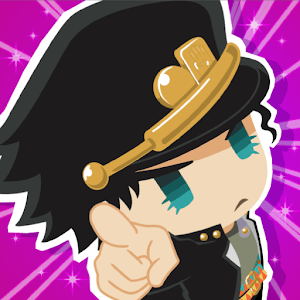 JOJO's PITTER-PATTER POP! BANDAI NAMCO Entertainment Inc.

: