It is always excited to play a new game of My Hero Academia, and this time, you will not be disappointed. Published by Tencent, My Hero Academia: The Strongest Hero revealed its first playable demo at ChinaJoy 2019.
The action RPG is an official smartphone game set to be released in China following the story of the TV anime. The release date is not confirmed yet.
▍Gameplay
The game demo provides three stages for players to try, as they have to clear different missions, such as rescuing hostages or fighting villains, in the My Hero Academia universe. The missions are not too difficult but still provides certain challenges.
Players can transform into different signature characters with their unique "Quirks", the game demo provides three characters for visitors to try, Midoriya Izuku (緑谷出久), Katsuki Bakugō (爆豪 勝己), and Fumikage Tokoyami (常闇 踏陰).
The full 3D graphics and powerful characters skills provide players good and compelling gaming experiences. You will enjoy the stunning 3D animations, which are also initiated when the characters unleash their ultimate skills.
Players have to pair two characters for each stage. Each character has their own strengths and weaknesses, so it will be wise to arrange the characters according to the attribute of the stage. The known attribute characters and stages include Speed, Technique, and Power. Having an attribute advantage in each stage will highly increase the attack players deal to enemies and reduces the damage they receive.
You will be excited to unleash the "Quirks" following the original setting in the TV anime. For example, you can attack villains with Bakugō's rapid close-range attacks and long-range blasts.
I am also amazed by the versatility of the attacks. Apart from normal attacks, players can collect Bakugo's nitroglycerin-like sweat during the battles, which is showcased in the grenade bar at the bottom. When the bar reaches to its fullest, Bakugo can unleash stronger explosions and also his ultimate skills.
Also, the ability button allows Bakugo to enter the dashing mode, as he can use the explosion to propel himself through mid-air. The normal attack will transform into a dashing attack when he enters this mode.
On the other hand, Fumikage can shoot out Dark Shadow's claw and attacks villain at great speed, while Midoriya can unleash One For All: Full Cowl, which allows his powers to flow through him.
▍Gameplay – Deku
Stay tuned on QooApp for future updates of the game!
▍PV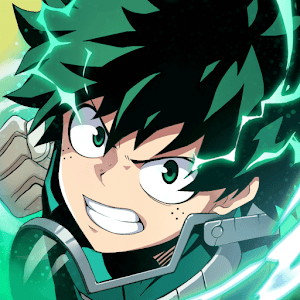 My Hero Academia: The Strongest Hero | Traditional Chinese My Hero Academia: The Strongest Hero | Traditional Chinese Komoe Game

: